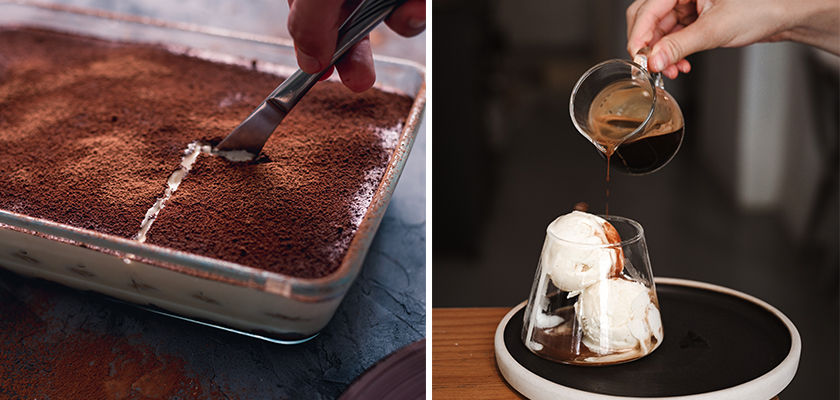 It's no secret that Aussies love their coffee. In fact, nearly 19 million Australians consume atleast one cup of coffee a day. So, it's no surprise that an increasing number of Aussies now have a coffee machine at home.
RELATED: 8 simple hacks to save money on groceries
RELATED: 7 tips for the perfect cheeseboard
But the benefits of owning your own coffee machine goes far beyond than whipping up a flat white in your pj's (don't get us wrong, we think it's awesome). It also means you have a ready ingredient at your disposal for your cooking adventures.
Here are five easy recipes that make the most of your at-home coffee maker:
Tiramisu
This list wouldn't be complete without the ultimate coffeeholic dessert. Literally translating as 'pick me up', Tiramisu was created in the 1960s at an Italian restaurant in Veneto, Italy. Layered with creamy mascarpone, sponge cake and cocoa powder, the heart of tiramisu lies in its coffee element (and the addition of liqueur). If you want to take yours to the next level, try this delicious tiramisu cheesecake.
Frappe
A summer staple, the frappe is a perfect way to drink your coffee during the sweltering temperatures. The iced drink's origins can be traced all the way back in the heat of the 1957 Thessaloniki International Fair in Greece.
Despite being typically made from instant coffee, ice and sugar there's no reason why a shot of espresso can't be used in your recipe – simply add in a blender and blitz to your desired consistency.
Espresso Martini
According to L'OFFICIEL, the espresso martini was the go-to drink for summer 2020 – and for good reason! Making your own at home is easy (and rather more cost-effective than a bar visit). All you need is to combine 30ml espresso, 45ml vodka, 15ml coffee liqueur and 15ml sugar syrup.
Serve in your favourite cocktail glass and you're ready for a wild Friday night in!
Affogato
This quintessential Italian dessert has found its way onto menus all around the world thanks to the delicious combination of vanilla ice cream (or gelato if preferred) and a shot of fresh espresso. It is typically served as a dessert but is good any time of the day.
Coffee Cake
Who doesn't love a good coffee cake with their afternoon tea? For a stronger coffee flavour, replace instant coffee with a shot of espresso (or two) in your sponge cake recipe. Or try this easy 6-ingredient coffee cake recipe from L'OR.
Do you have any coffee capsules hack that we missed? Tell us in the comments below!
How are you enjoying your coffee capsules at home? Tell us in the comments below!