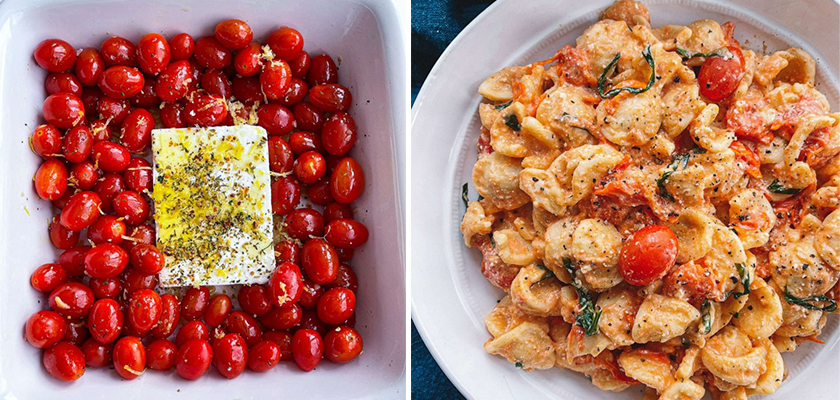 Find out why this baked feta and tomato pasta has been taking over the internet by storm! Made with only a handful of ingredients, this fuss-free and delicious pasta is an instant hit! Perfect for those lazy weekday meals! 
Prep Time

10 min

Cook Time

30 min

Total Time

40 min
Ingredients
1 box of your favorite pasta
200g block of feta cheese
2 cups cherry tomatoes
1 garlic clove, minced
1/4 cup plus 1 tablespoon olive oil
3-4 fresh basil leaves, chopped
1 teaspoon salt
1 teaspoon black pepper
1 teaspoon oregano
Lemon zest
Chilli flakes (optional) 
Cooking Method
1
Preheat oven to 200°C and cook pasta according to package instructions. Set aside and reserve a cup of pasta water for later. 
2
Place cherry tomatoes in an oven-safe baking dish and add olive oil, salt and pepper. Toss together until well combined.
3
Add block of feta cheese in the middle of the baking dish. Top with olive oil and add lemon zest and oregano. 
4
Bake in the oven for 25-30 minutes until tomatoes are soft and feta is soft-melted. 
5
Once done, add in fresh garlic, basil and chili flakes and mix together until you have a perfectly uniformed sauce. 
6
Add in cooked pasta in the sauce and toss until well-combined. If it is too thick, add a couple of tablespoons of reserved pasta water to help loosen the sauce. 
7
Garnish with more fresh basil before serving and enjoy!
This recipe was submitted by a Black Box member. 
Need a little more help? Check out the video below: