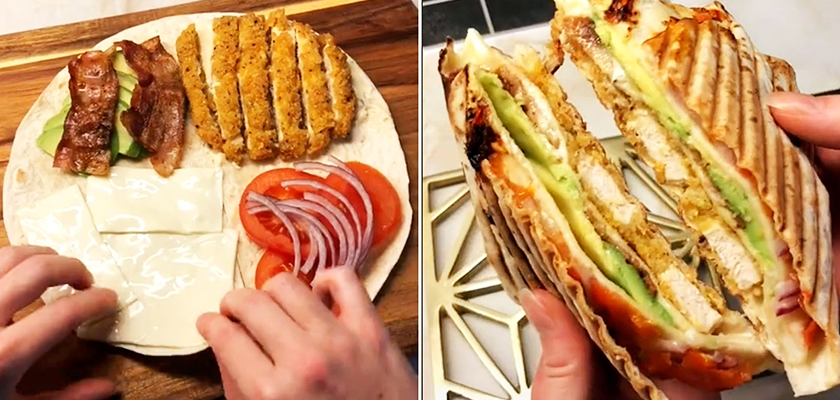 Anyone who's ever tried folding a tortilla wrap knows the struggle that comes with trying to roll and fit all the ingredients inside the wrap without the fillings slipping out, or worse, the tortilla tearing or breaking. Trust us, we feel your pain.
Thankfully, there's a new food trend that does away with any and all wrap-making stress! Leaving you with a perfectly folded, delicious griddled wrap.
RELATED: 8 simple hacks to save money on groceries
RELATED: 7 tips for the perfect cheeseboard
Popularised on TikTok, this nifty food hack known as the #TortillaTrend has been viewed over 2.4 BILLION times on the app – a clear indication that this hack indeed works! 
Here's how to do it:
Grab yourself a tortilla wrap, and using a knife, cut a straight line down from the centre of the wrap to one edge.
Now that you have the cut on your wrap, mentally divide your wrap into four quarters with each section assigned its own topping.
Once all the ingredients have been assembled to its section, fold up one of the quarters next to the cut edge and start folding quarter by quarter around its entirety until you have a perfectly folded triangle wrap ready for the grill or a sandwich press.
Check out the video below to get some tortilla wrap inspirations for your next attempt: 
What do you think of this #TortillaTrend? Will you be trying it at home? Let us know in the comments below!